Penny Brohn Cancer Care
---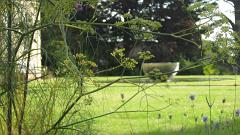 The charity left its home in Clifton, Bristol for new premises in the former Ham Green Manor.
The extensive parkland required restoration and considerable work to the elderly tree population. Trees which had to be felled were replaced by natives, and an arboretum of trees used in medicines for cancer treatment was also initiated.
Timber from a felled cedar was used to build the pergola
New building work created an inner courtyard and a protected garden where herbs and medicinal plants provide a quiet seating area, and a pleasant pergola walk with soothing scents.
Alex Johnson worked with the charity over a period of two years to design and complete a garden to complement the work of Penny Brohn Cancer Care, and the magnificent setting.